READ MORE
[

01

/ 05 ]

LEGGI TUTTO
[

02

/ 05 ]
[LINE]
MEATLOAF
OF THE ANCIENT RECIPE OF THE
APULIAN TRADITION
READ MORE
[

03

/ 05 ]
[LINE]
DELICIOUS

POTATO AND MOZZARELLA CROQUETTES
[

04

/ 05 ]
READ MORE
[LINE]
ARANCINI



LIVE THE TASTE IN
JOY
READ MORE
[

05

/ 05 ]
Let's get together, have dinner at my house!
With its wide range of frozen snacks of an unmistakable Apulian flavor, 'Na Voglia bring Italians together around the dinner table.
'Na Voglia is ideal for your last-minute dinners with rotisserie meals ready in no time, making special every moment spent with family and friends.
at home, at work, wherever you want
PALM OIL
FREE
Navoglia does not use shovel oil but only extra virgin olive oil.

100% ITALIAN TOMATOES
All the flavor and aroma of tomatoes from Southern Italy.

100% CONTROLLED MEATS
Strictly controlled and selected meats for our products.
THE BEST
FLOURS
Selection of the best grains for doughs and breads.
Only fresh and selected ingredients
Only the best ingredients of traditional Apulian cuisine are the protagonists of panzerottini 'Na Voglia: the tasty mozzarella and velvety tomatoes combine with the decisive and festive flavors of cooked ham, salami and ricotta to transform your moments into a party.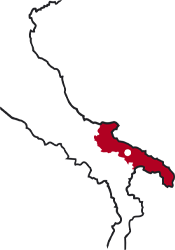 We have made an art out of Apulian tradition!
We have come a long way in the frozen food sector since 1983! Our history, made up of trial and error experiences, as well as attention to and selection of ingredients in the frozen foods sector, marries the tradition of the
Apulian panzerotto
and appetizers, which today are known the world over. Today we tell a story made up of little cooking secrets handed down from our family: from the leavening, to the working of the dough to the stuffing.
read more